As one team, we help our clients achieve extraordinary results, beat the competition, and redefine industries.
Fusion Group Holding is a business management company that works with businesses and government leaders to overcome their most pressing challenges and maximize their potential, across a diverse range of industry sectors. We succeed when we work together as a global community of diverse people, determined to improve the world.
100%
Corporate Management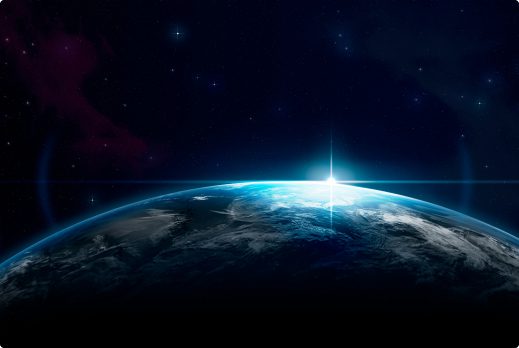 Our Vision
To be the leading Qatari company whose diversity of operations and businesses provide a gateway for companies to grow and invest, across industries.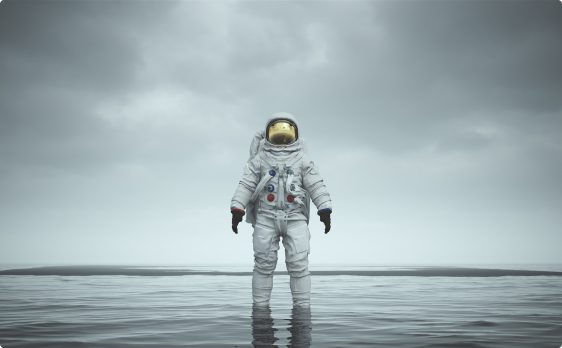 Our Mission
Through its collective network, Fusion Group Holding empowers its affiliates and subsidiaries to reach their full potential, leading through a culture of innovation to inspire excellence.
Culture of Innovation
Fusion Group Holding encourages a dynamic culture of forward thinking, embracing a culture of innovation, inspiring both our employees and clients to always seek out new opportunities.
Empowering Growth
Fusion Group Holding's employees are powerhouses of ideas and opportunities. In order to stimulate and empower future growth among everyone with whom we work, we nurture and develop these talents.
Collective Network
At Fusion Group Holding, we are strong team builders. We believe in bringing together positive changes through collective endeavors and committing ourselves to create value for all stakeholders, including our team members as well as clients.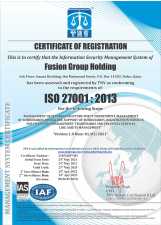 ISO 27001: 2013
Information Security Management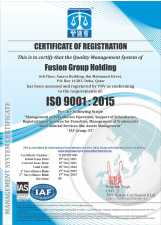 ISO 9001:2015
Quality Management System
ISO 31000:2018
Risk Management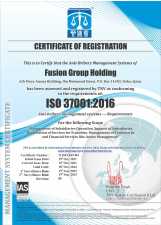 ISO 37001:2016
Anti Bribery Management Systems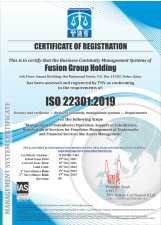 ISO 22301: 2019
Societal Security - Business Continuity Management

2010
Founded on 15/02/2010, PRO Partnership was incorporated to become a local partner assisting foreign companies in establishing their business in Qatar.

2011
Bethel Professional Services was established on 30/11/2011 as a local partner to assist companies (whether registered or looking to register in Qatar) with incorporation processes and related ongoing corporate/employment services.

2012
Premier Solutions was founded on 07/06/2012 to become a local partner for engineering and education firms.

2013
Bethel Construction was established on 04/08/2013 to provide professional employees and skilled labour to local companies registered in the Qatar market.

2016
To help our partners in their expansion efforts, PRO-Partnership opened a new office on Sheikh Zayed Road in Dubai - UAE on 29/09/2016 under the name Fusion Middle East Management Services, in order to assist our partners in their expansion efforts.

In May 2016, Bethel Construction rebranded as Bethel Technical Services and Logistics, and in November 2016, as Bethel Outsourcing and Services.

2017
Fusion Group Holding was incorporated on 10/12/2017 in order to own the group entities and provide financial and management support.

2018
Having partnered with Manpower Group, Bethel Outsourcing and Services has become a leader in workforce solutions and innovative services in Qatar.

PRO Partnership was rebranded on 22/04/2018 to Fusion Middle East Services.

Bethel Professional Services was rebranded on 23/04/2018 to Fusion Support Services.

On 01/05/2018, Fusion Technology and Communication Services were incorporated.

Fusion Outsourcing and Services rebranded from Bethel Outsourcing and Services in May 2018.

2019
On 02/01/2019, Fusion Middle East Services - Oman was incorporated in Muscat Governate, Sultanate of Oman at the request of clients/partners, offering Omani partnership and ongoing related PRO services in Oman.

On 10/12/2019, Fusion Consultancy and Services was incorporated.

Fusion Consultancy Services (FCS) offers customized business and engineering solutions for local and international companies, looking to grow their business in Qatar and the region.

2020
Fusion Technology and Communication Services were rebranded on 08/04/2020 to Fusion Q Technology and Trading – delivering Hamad International Airport's first automated UVC disinfection robot as part of COVID-19-related efforts.

Fusion Group Holding becomes TRACE Certified.

2021
Several long-term aviation contracts have been awarded to Fusion Q Technology and Trading.

Fusion Group Holding becomes ISO Certified.